Chimney Fires and the Importance of Routine Maintenance
During the fall season, temperatures will drop and you will come across the need to use wood burning stoves and fireplaces to warm up the house. Before you start using the fireplace, you are strongly encouraged to do a proper inspection. Otherwise, you will not be able to ensure safe operation of it. It can even lead you towards frustrating situations such as a chimney fire. During such situations, you will be risking the safety of you, your loved ones and your belongings at home. Therefore, you need to focus on routine inspection and maintenance of your chimney.
According to CSIA, a slow burning chimney fire will not receive enough fuel to burn wood in an efficient manner. However, they reach very high temperatures, which can create a major negative impact on the overall chimney structure.
What is Creosote?
Your fireplace and wood stove have specifically been designed to facilitate wood fuel fires while ensuring maximum safety. In the meantime, it has the ability to provide heat to your home throughout the colder months of the year. However, the combustion process that takes place within the chimney gives out a large number of by-products. They include gases, water vapor, smoke, hydrocarbon, unburned wood particles and even tar fog due to the presence of minerals. They are eventually flowing to the top chimney, where condensation would take place. The residue will eventually stick to the inner walls of your chimney. This residue is called creosote.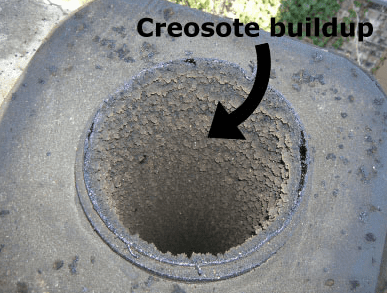 Creosote is the name given to a brown or black colored residue, which is flaky and crusty. It looks similar to tar. It gives out a shiny look when hardened. You should keep in mind that this material is highly combustible. In other words, creosote can eventually give life to a chimney fire.
What factors give life to the buildup of creosote?
Before you address the problem caused by creosote, you need to understand the factors that are in a position to contribute towards the buildup of creosote. Then you will be able to make an informed decision to overcome the risk factor linked with chimney fire as well.
Several reasons can contribute towards the buildup of creosote. They include:
Restricted flow of air
Using unseasoned wood within the fireplace
Maintaining cooler temperatures within the chimney than usual
You need to make sure that you don't create space for these factors to lead you towards a chimney fire. That's where regular chimney inspections and maintenance will help you with that.
How to prevent chimney fires?
Maintaining chimney fires is identified as the most effective method available to eliminate the occurrence of chimney fires. That's because creosote is the major culprit behind chimney fires. If you can prevent the occurrence of creosote within your chimney, you don't need to worry about chimney fires at all. Therefore, you will not have to worry about the risk factor associated with it.
How to maintain the chimney?
Now you have a clear understanding about the process of preventing chimney fires. All you have to do is to pay attention towards regular chimney maintenance. This is not a straightforward job. That's because you will need to pay attention towards a variety of factors.
Here are some of the most prominent aspects of chimney maintenance.
The chimney maintenance process should begin from removing ashes. This sounds as a simple thing to do, but most of the homeowners neglect the fact. During the winter season, you need to make sure that the fireplace is not causing buildup of ash to over a depth of two inches. You should clean ash from the fireplace and provide a good scrub. It is better if you can get the help of an expert to do this job.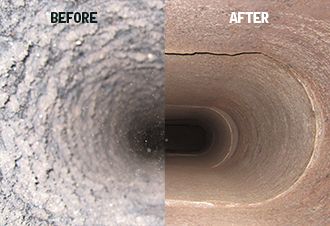 In order to eliminate the risk factor associated with chimney fire, you should remove creosote accumulated within the chimney. No matter how much you pay careful attention towards the wood burning process, buildup of creosote can take place. Therefore, you will need to think about coming up with an effective method to remove creosote. That's where a professional service provider can support you with. You are not in a position to climb up in the chimney and remove creosote. You should not even try it because it can lead you towards many health and safety issues. Therefore, you need to go for professional chimney maintenance services and get creosote removed.
Removing fire stains and soot
During the chimney maintenance process, you need to pay attention towards the aesthetic appeal as well. This is where you need to remove fire stains and soot. The process of removing fire stains and soot will be an easy job for a professional service provider. They have appropriate cleaning agents. By using these cleaning agents, they are in a position to get the cleaning job done in an efficient manner. This can provide outstanding results to you at the end of the day.
Maintaining the chimney from outside
A chimney maintenance service provider will be able to assist you with maintaining your chimney from outside as well. For example, they will pay attention towards the chimney cap and make sure that it is in good condition. In addition to that, they will also make sure that the cap has a wire screen to keep animals or debris from getting into the chimney.
Now you are aware of the importance of hiring a professional service provider to get the routine chimney maintenance job done. If you are looking for such a service provider, you can simply contact Stratton Heating and Air Conditioning. We are a certified chimney sweep and part of the National Chimney Sweep Guild. We will provide the best chimney maintenance services to you and help you with overcoming all the issues that you will end up with the chimney, including chimney fires. Therefore, you can go ahead and contact Stratton Heating and Air Conditioning without keeping a doubt in mind.